June 10, 2020 | reading time: 4 minutes
10 tips for an ideal holiday on Bonaire!

Alain Noordermeer
Account Manager Vacation Rentals
Sunbelt Realty


Everyone has their own preferences about what to do and especially what not to do on a holiday. Bonaire is known as the island where you can quietly enjoy the Caribbean sun and sea without mass tourism. No stress on Bonaire and you can't help but go along in the relaxed atmosphere that prevails on the island. The motto that rules here is therefore: "Relax! You are on Bonaire."
Bonaire has more to offer than just sun, a beautiful sea and cocktails. I would like to share 10 tips with you which gives an absolute added value to your holiday.

1] Divers Paradise
The divers already know this, but Bonaire is famous for its underwater world. Now I hear you think, but I am not a diver so this tip does not apply to me.
Wrong! In addition to the possibility to take a diving course at one of the many locations, you can also simply enjoy the underwater world with a snorkel mask. From the moment you put your face under water, a completely different world is revealed. A fantastic color palette of fish swims around you, an image that you cannot fully perceive at first sight above water.
With a bit of luck you will find a sea turtle swimming by! Ask on the island for the most beautiful diving and snorkeling spots. As for example, if there are no boats, at the salt pier is a great place to snorkel.





2] Klein Bonaire
The ultimate feeling of freedom and vacation together. Rent a boat and sail across the azure sea to Klein Bonaire!
Bring a snack and a drink, snorkel masks and sunscreen on board and you are ready for an ideal day of enjoyment.
Just in front of Bonaire is the small, uninhabited island of "Klein bonaire". You cannot skip this piece of paradise once on Bonaire. The island is surrounded by a pearl white sandy beach and is ideal for a Robinson Crusoe feeling. You can also choose to be dropped off on the island by water taxi to be picked up later that day.


3] Windsurfing on Lac Bay
In addition to diving and snorkeling, Bonaire is also known for its ideal conditions for windsurfing.
Lac Bay is an 8 km2 large shallow lagoon on the southeast side of Bonaire where the wind is constantly onshore. The azure blue colored bay is surrounded on the north side by a unique mangrove forest and closed on the east side by a coral reef. Young and old can learn to windsurf here, but you can also fill a day by enjoying all these water sports enthusiasts while zipping on your ice-cold drink.


4] Washington Slagbaai National Park
The Washington Slagbaai National Park is over 6,000 hectares and covers the entire north head of Bonaire. By car, mountain bike or on foot it is possible to get acquainted with the geological, natural and cultural-historical sights that the beautiful park has to offer.
The mountainous terrain with its cactus forests, aloe fields, rock formations, salt lakes, limestone caves, sand dunes, blowholes and crumbling limestone terraces is home to many special plants and animals. More than five hundred different animal and plant species can be found in the park.
An absolute must to discover the real Bonaire. The park also has a number of beautiful places where you can swim, so you can cool off during your exploration of all this natural beauty.



5] Kralendijk
Kralendijk is a small village, but definitely worth a visit.
There are several restaurants and bars where you can enjoy a tropical cocktail or order a locally caught fish while looking over the beautiful ocean. Stroll along the boulevard while looking at the brightly colored fish in the azure blue sea or the crabs that or on the reef, getting some vitamin sea.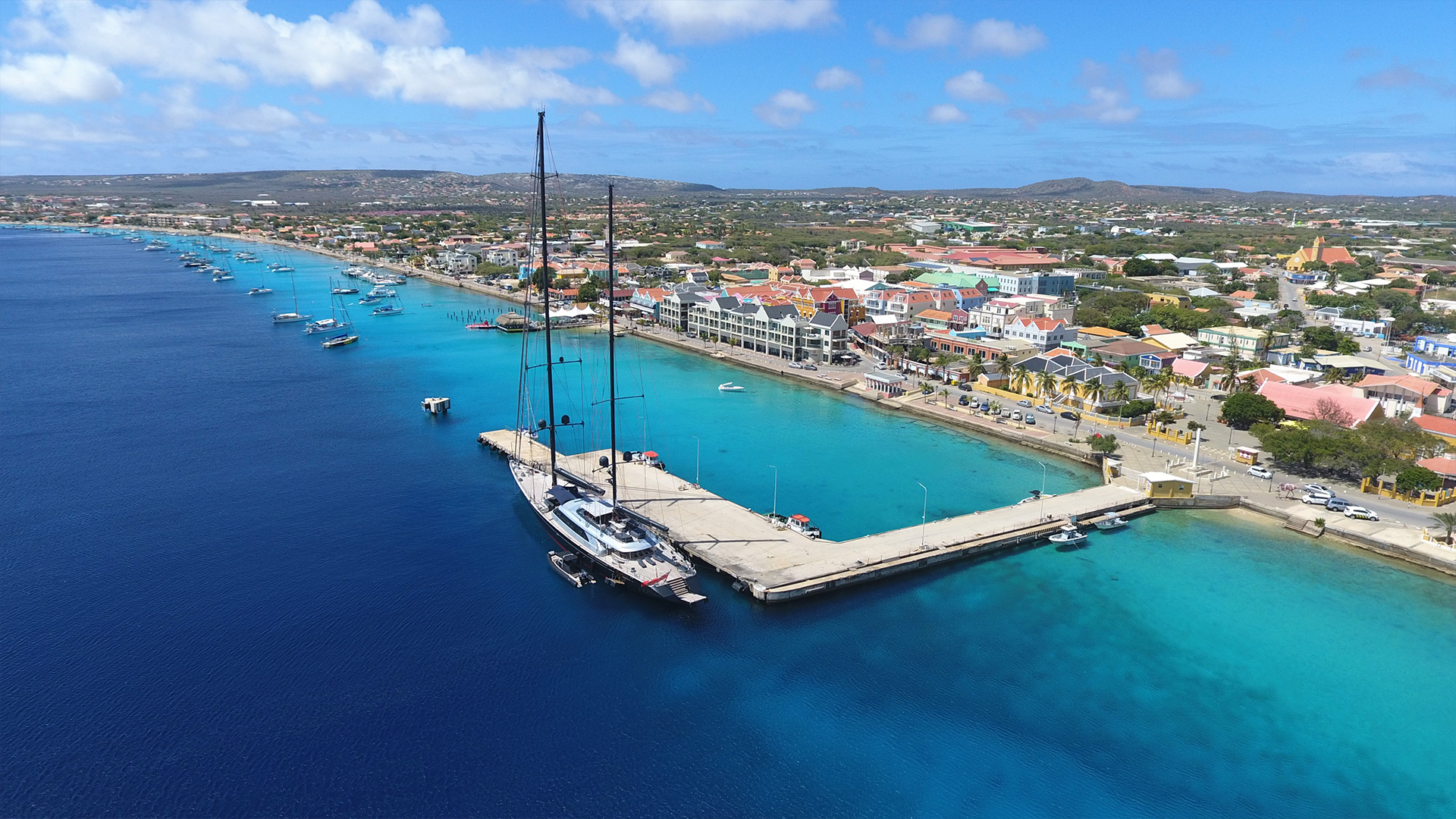 6] South Side
If you are on Bonaire, it is absolutely recommended to rent a car. Please note, in high season we recommend that you book a car well in advance to avoid disappointment.
Once you have rented a car, it is wonderful to make a tour of the southern part of the island. You will then pass the famous salt pans, the slave houses, a beautiful piece of mangrove and the kite beach. Here you can see all the spectacular moves of the kite surfers. On this route you will also come along the rugged east coast and you will discover the diversity of the island.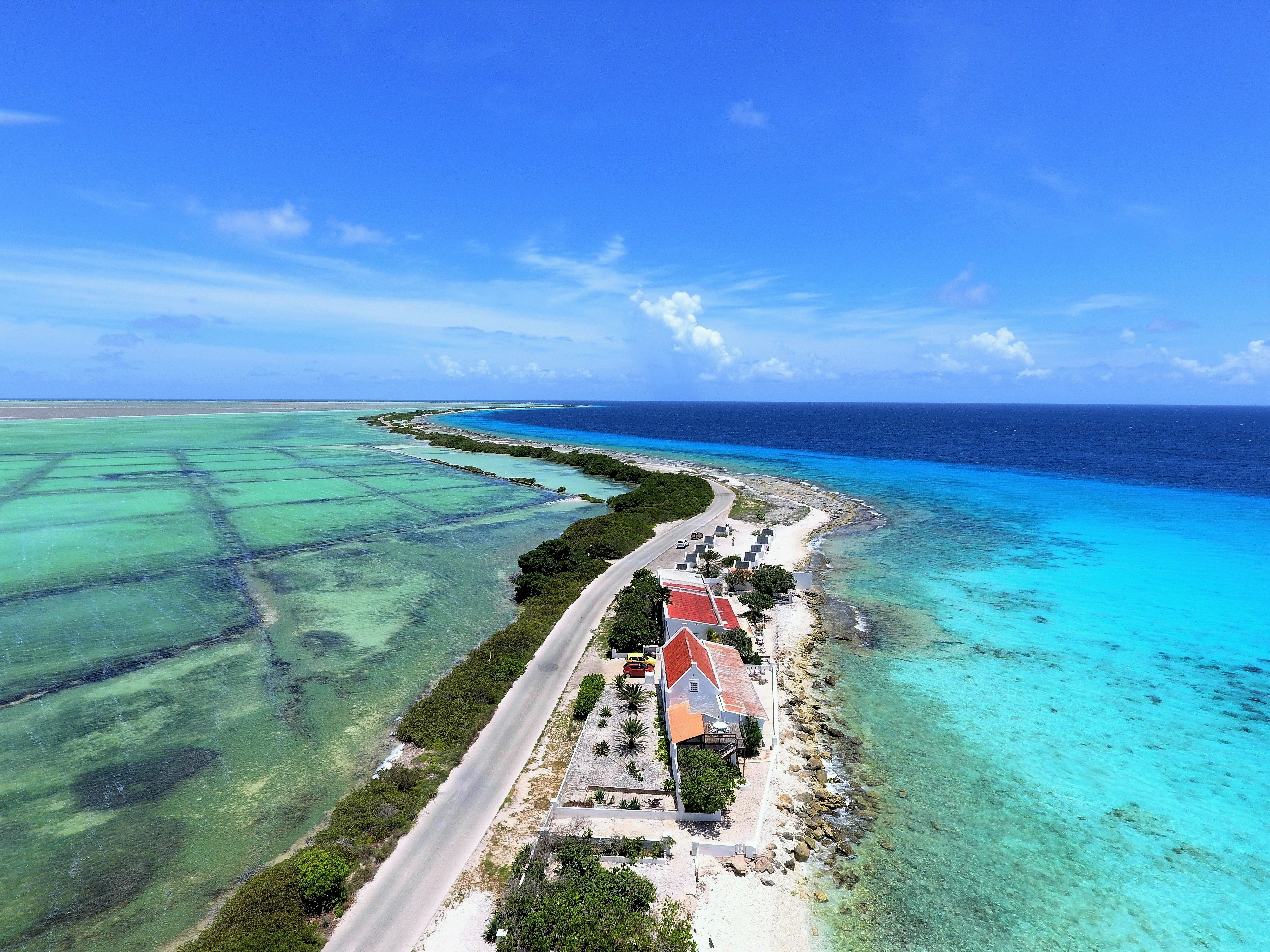 7] Mangrove
Lac Bay is a collective name for Lac Baay, Lac Lagoon, Lac Cai and Lac Caay. Cai forms the northern tip of the Lac Bay inlet.
The beach of Cai is particularly beautiful and is a popular recreation area for tourists and Bonaireans. Cai can be reached via a narrow, sometimes somewhat difficult access road.
But once arrived, the ride is amply rewarded.
Upon arrival you will immediately see an impressive mountain with conch shells. Cai is a popular meeting place for the local Bonaireans. Every Sunday entire families gather at the beach of Cai, enjoying themselves with local music, dancing, beer, rum and tasty snacks.
The beach is fantastic and there is a very nice view on the mangrove. You can also do a Kayak trip through this mangrove.




8] Rock drawings
The Arawak Indians have left drawings on rock walls and in caves throughout the Caribbean. These paintings have been well preserved and can be seen at approximately ten locations on Bonaire. During these viewings you will dive into the history of Bonaire. You drive over coral that is a hundred years old along the rugged coastline of Bonaire. The waves here are sometimes enormously high, a fantastic spectacle.


9] Views
There are four different viewpoints on Bonaire: Seru Largu viewpoint, Kaya Para Mira viewpoint, Altamira Ujo viewpoint and Goto Lake viewpoint. These viewpoints rise high above the landscape and therefore offer breathtaking, panoramic views over Bonaire. The Millennium Monument can be seen from almost anywhere on Bonaire. Recognizable by the large white cross, a handy landmark. From Lookout Seru Largu you have a great view over the centerpart of Bonaire, capital Kralendijk and the impressive cruise port. With clear skies, even the mountains of Curaçao can be seen from Lookout Point Seru Largu.





10] Beaches
Bonaire does not have miles of sandy beaches like in Aruba that attracts crowds of tourists to the island. There are certainly several sandy beaches on the island that are also of enormous beauty. Bonaire has several smaller idyllic places where you can enjoy the peace and nature. For example the quiet Pink Beach or you can relax with a hammock between the trees on Donkey Beach. Ti Amo Beach is a fine sandy beach where the children can also enjoy themselves. The beach on Klein Bonaire is fantastic together with the sea and the nature of the island.



There are of course many other good reasons to visit Bonaire. To start off, your stay on the island is important. A lovely place where you can retreat and relax. Sunbelt has a large selection of beautiful holiday homes and sea view apartments.
Check out our available vacation condo's and villas by clicking here or contact us right away at rentals@sunbeltbonaire.com


See you soon on dushi Bonaire!