Building on Bonaire with Industry Experts
Build your dream villa and work with seasoned industry experts. Build a well-thought-out popular house. Let us guide you with design, permits, construction & supervision.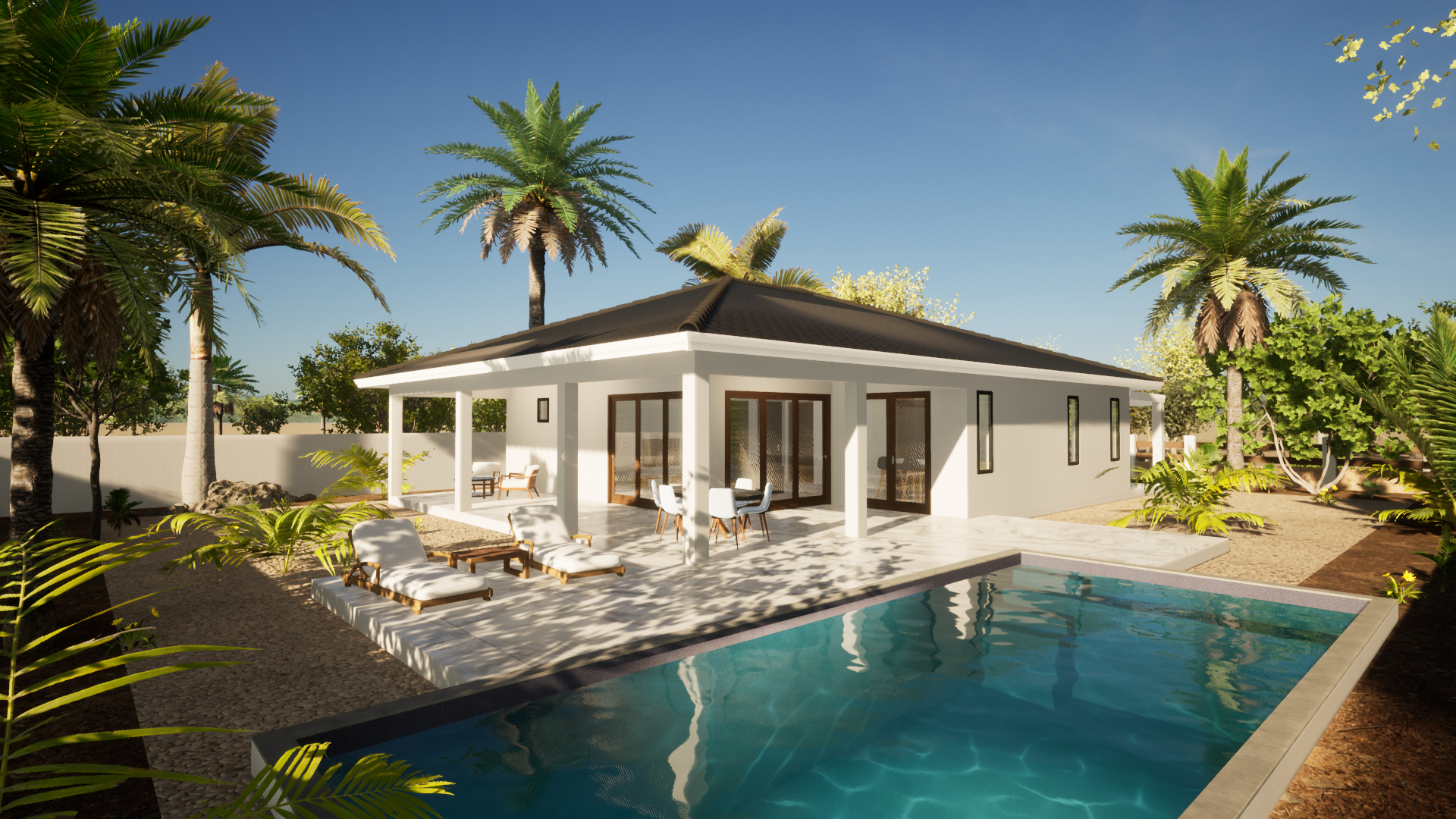 Model IV

- Spacious family home with 3 bedrooms, covered terrace and optional swimming pool

Are you looking for a home that can be used as a large family home but can also house an indoor studio? Then we proudly present our yet to be built luxury home with 3 bedrooms, 3 bathrooms, a spacious covered terrace and the possibility to add a refreshing swimming pool to your liking.

Living space: approx. 117 m2 gross floor area
Covered terraces: approx. 55 m2 gross floor area
Total: approx. 172 m2 gross floor area.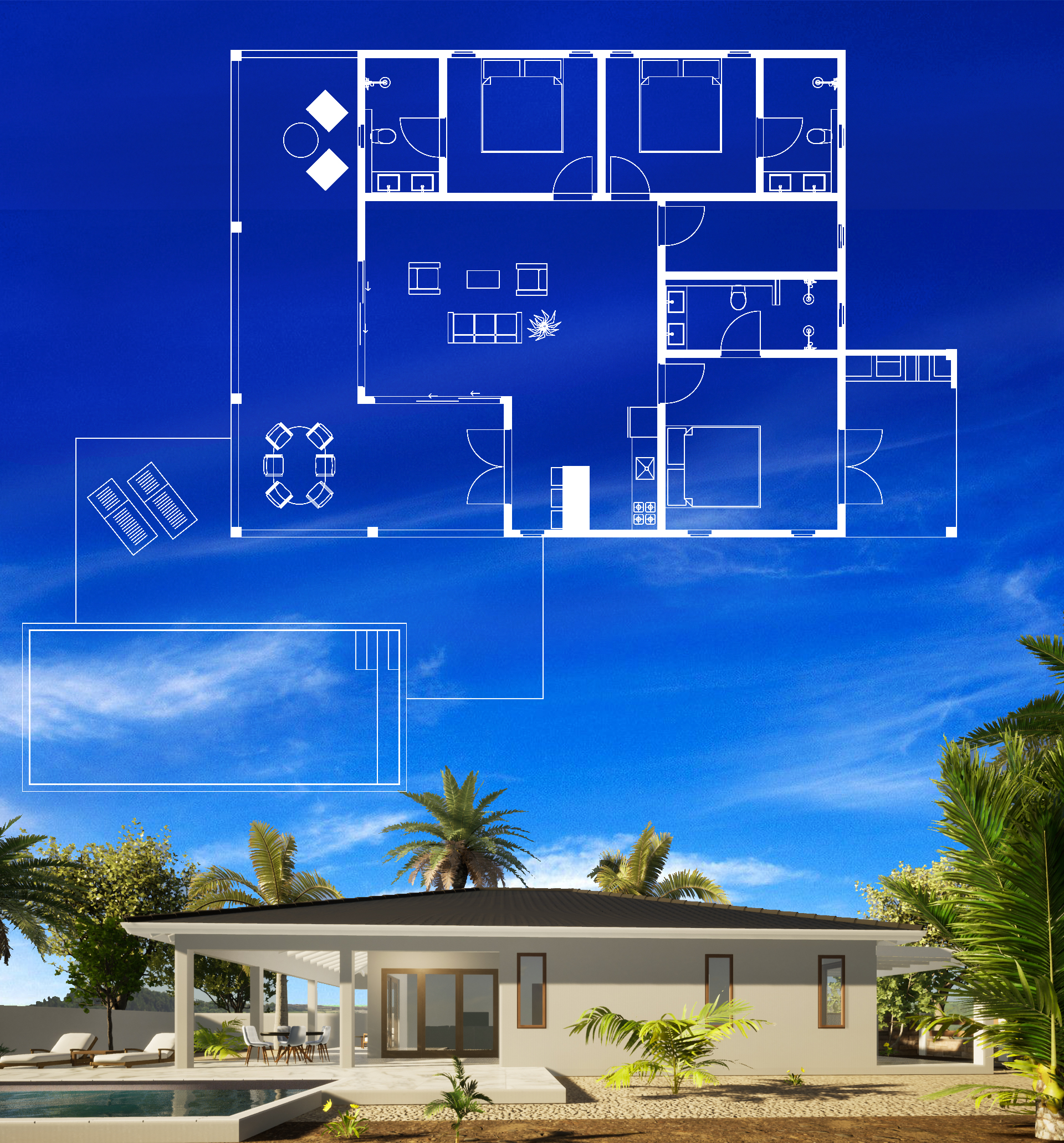 Features of this beautiful home
Spacious layout for optimal comfort
This house has been designed with an eye for detail and maximum comfort. With 3 spacious bedrooms, there is plenty of room for you and your family. The open plan living room and kitchen layout create a sense of space and belonging, perfect for entertaining guests and socializing. A design by Okhuijsen Bonaire with the possibility of making small adjustments and changing the layout.

Construction Method
The house will be built using local traditional construction methods consisting of a concrete strip foundation filled with diabase, concrete ground floor, concrete blocks as inner and outer walls with cement stucco and a wooden roof construction.

Stylish bathrooms and kitchen
Enjoy the luxury of 3 tastefully designed bathrooms, with quality fixtures and contemporary finishes. Start your day fresh and energized in an environment that transforms your daily routine into a spa-like experience. The kitchen is a design in consultation with you as the client. Supplier of bathrooms and kitchen: byWansleeben Bonaire.

Inviting covered terrace
Imagine waking up each morning to a warm breeze and a beautiful view on your private covered deck. Whether relaxing with a cup of coffee or organizing an evening under the stars, this terrace will undoubtedly become the heart of your new home.

Building materials of high quality
The model homes are delivered with high-quality wall and floor tiles. These are rectified ceramic tiles. Roof covering is also standard in ceramic roof tiles. The tiles and roof tiles are supplied by Fine Building Materials Bonaire.

Swimming pool and landscaping (Optional)
What could be more tempting than taking a refreshing dip in your own private swimming pool on hot summer days? The option of adding a swimming pool to your home allows you to create a real retreat, where relaxation and fun come together. It is possible to optionally opt for the construction of a swimming pool. Whether it concerns a plunge pool, hot tub or a large swimming pool. Costs for the construction of a swimming pool vary between approximately USD 20,000 and USD 80,000 depending on the size and type of swimming pool.
Landscaping, shade roofing, paving of driveways and paths in the garden can also be realized at an additional cost.

Inventory and furnishings (Optional)
Looking for a turn-key delivery including inventory and upholstery? That is possible at an additional cost. Target price for a fully furnished home based on this type of Model IV starts at approximately USD 47,000.

Location, Location, Location
This catalog model home can be built in the district of Suikerpalm Bonaire. A thriving neighborhood, surrounded by beautiful open landscapes and only 2.5 km from the Caribbean Sea. Not yet the owner of a plot in Suikerpalm? Click for all available Sugar Palm lots.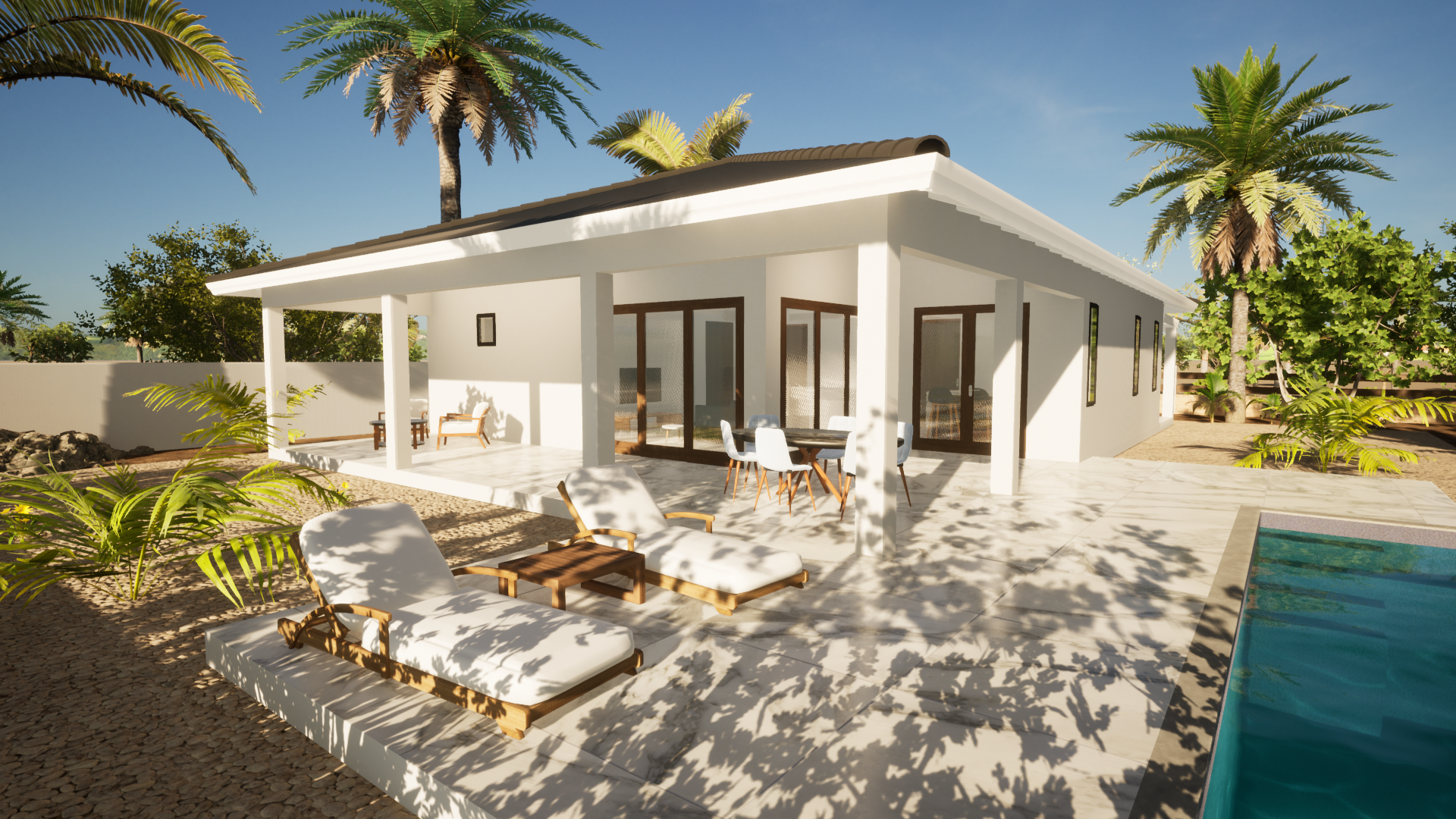 Cost
Starting price construction costs: USD 475,000 including ABB sales tax.
This concerns the construction costs of the house including painting, roofing, tiled floors, bathrooms, kitchen and simple landscaped garden with crushed stone and solid fencing. The bedrooms are equipped with split-unit air conditioning. Included in this price are design costs and the submission of the building permit application, the tender and construction supervision with supervisor.

Not included in the price: building permit empty costs, connection rates for water & electricity, swimming pool, planting and paving garden, inventory & upholstery. All these additional works are available at additional cost. The construction costs for each project are calculated individually based on the specific design, the size of the building plot and any changes in the construction costs that may occur between the publication of the project and the time of tendering.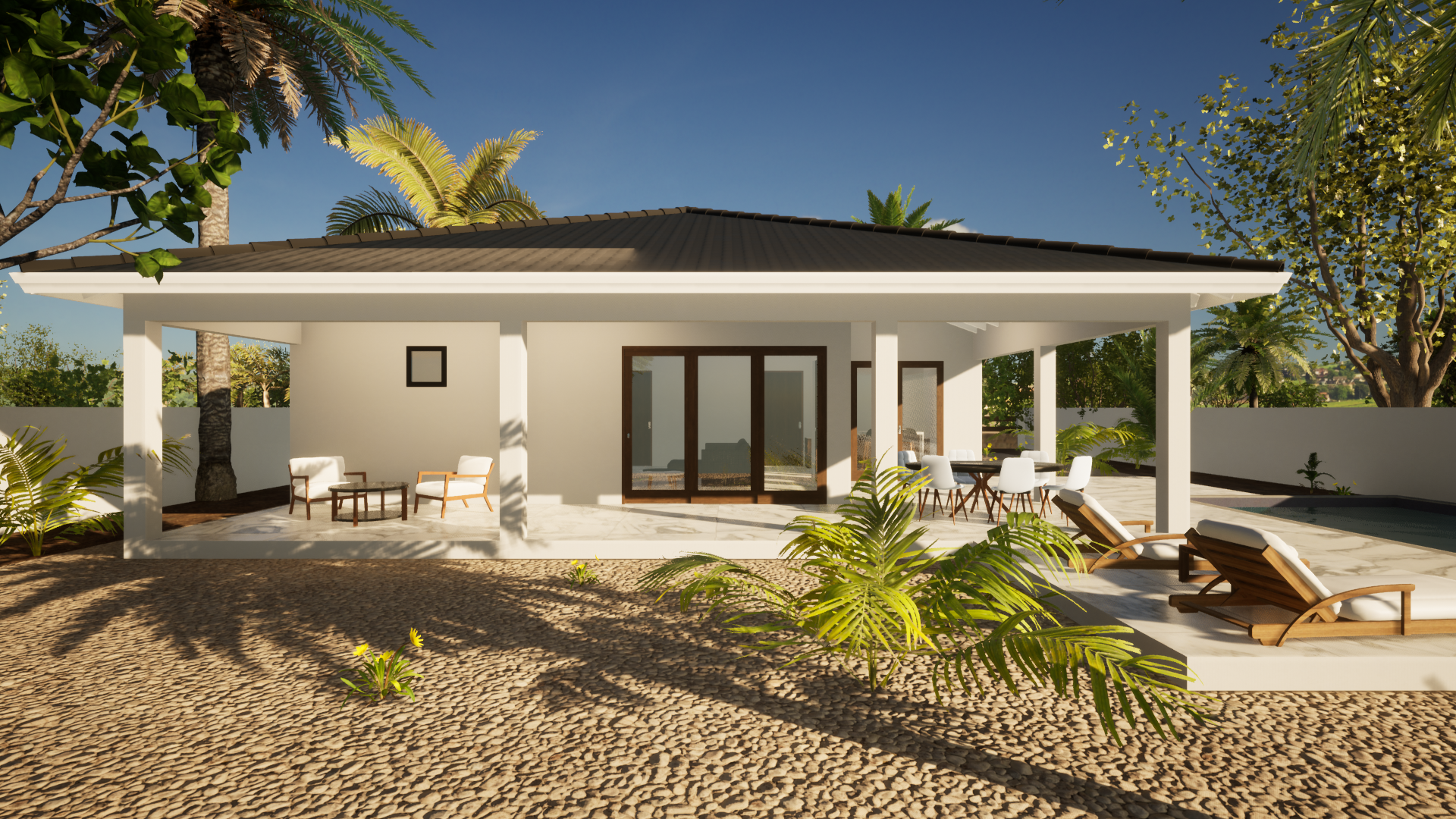 Start building
We invite you to be a part of this exciting chapter in real estate development on Bonaire. Personalize your future home by thinking along with the design and choosing the optional swimming pool, furniture package and landscaping. Make this home a unique expression of your personal style and needs.

Do not hesitate to contact us for more information, floor plans and a no-obligation chat about how this property can meet all your needs. Your dream home awaits – seize this opportunity and make this vision a reality. Contact us today
info@sunbeltbonaire.com | +599 717 6560